Online Bridesmaid Dress Shopping
I've mentioned before that looking for bridesmaid dresses stressed me the hell out. There wasn't a ton of online shops about when I got hitched, and my attempt at online bridesmaid dress shopping was a disaster – my "pink" bridesmaid dresses from Trade Me were most definitely, incredibly PURPLE. So when the "where can I find bridesmaid dresses online?" question pops up in the Southern Bride community, I remember the months of hunting that I went through myself!
Today I'm going to list some of the places that get recommended every time this question pops up in the group, and give you a few tips for shopping online to ensure you get a bridesmaid dress worthy of your wedding.
Tips for buying your Bridesmaid Dresses online
Buying your bridesmaid dresses online can be really convenient- no traipsing through stores, the range is amazing, and you can do it from anywhere. Here are a few things to consider when you are buying online:
If you're buying from overseas stores, you may be liable for GST/customs duties when they reach customs. If it's over $400 NZD, you'll need to pay the GST component when the parcel arrives (see Customs Service for more information). This means you'll need to allow more money, and more time for these bigger ticket purchases.
Don't forget the conversion rate! Overseas websites may not be in New Zealand dollars which can make prices look more appealing than they really are. Be sure to work out what it's going to cost in New Zealand dollars, including currency conversion charges, before you buy.
Sizing can be dicey. When I was bridesmaid for my friend Lisa, I was borderline size 10, but we went with a size 12, just in case. Thank goodness I did – it was a pretty tight fit! At least if it's too big you can get it taken in. If it's too small, you may end up having to buy another one (or sending the too-small one back, if you're able to).
Bolstered by stolen images, aggressive ads, and images of security certificates from places like PayPal and Norton Security, the sites regularly sucker consumers into buying clothing straight from China — and it often bears little resemblance to pictures they saw online.

If and when the garments finally arrive, shoppers say they're frequently small enough to fit children, their color is off, and they are made from flimsy materials. Sometimes they smell like chemicals. Customer service, typically located in China, is barely reachable, especially when it comes to returns and refunds. – Say No to the Dress, BuzzFeed
So now I've scared you into sticking to some reputable online shops, where should you go? The list below has been compiled by the brides in the Southern Bride Community. If you have one you've personally used and would recommend, leave a note in the comments.
Where to buy plus size bridesmaid dresses?
Some of the shops below do list plus size bridesmaid dresses, but I'd also recommend checking out the list compiled by Auckland blogger This is Meagan Kerr.
Recommended Online Shops for Bridesmaid Dresses
Traditional Bridesmaid Dresses
If you are opting for a traditional style of bridesmaid dress, then check out these online stores.
Kilt
To say I am a KILT fan is an understatement – I have an addiction.  Top of my list for being New Zealand made, Kilt's bridesmaid dresses are made to order – but plenty of their standard ready-made range are perfect for bridesmaids as well. Many of their designs can be worn in multiple ways, allowing your bridesmaids to wear the same dress in a way that suits their body shape.
Worried about buying online? They've got stores throughout NZ – plus Kilt Ponsonby and Dunedin have special "KILT Fancy boutiques" upstairs with bridesmaid dresses, and the super friendly store stylists can take after hours bookings for bridesmaid groups as well.  Here's more thoughts on choosing New Zealand made.
Based in the Ukraine, Yana's dreamy separates are paired together for a feminine look that's super-lush:
Another talented dressmaker from the Ukraine, Elena designs beautiful bridal clothing with on-trend colours in laces, chiffons and silks.
Candela Bridal
Candela Bridal is based in New Zealand and has a wide selection of colours, styles and sizes. Rather than an online shop, you message the Facebook page with your requirements.
Bella Bridesmaids is based in New Zealand also, and has a decent-sized collection of bridesmaid dresses, sorted by colour and they've got discounted rates for larger wedding parties.
Dessy has a great range of bridesmaid dresses, including plus-sized bridesmaid dresses. As well as a great range of traditional dresses, they also have some designs that are a little different.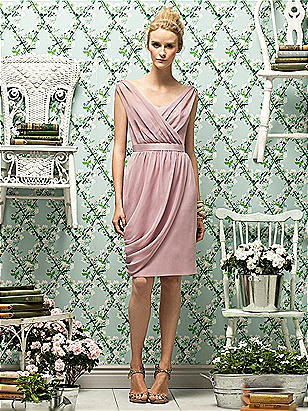 I really like how Dessy's website suggests similar dresses underneath – so if you're looking to mix and match, or the dress you're looking at isn't quite right, it's easy to find what you're looking for.
Australian-based Review has a wide selection of vintage inspired dresses.  I tossed up about classing Review as a traditional bridesmaid dress vs the "little bit different" category below, but I decided since the bulk of the dresses would be wedding-worthy, it was worth popping them in here.  Shipping is 5-10 working days.
As well as being online, Review has a store in Auckland (Westfield St Lukes), so you can pop in there if you're local and worried about size.
BHLDN
BHLDN has a pretty extensive range of bridesmaid dresses online – you'll also find them to be pretty expensive too. But they are oh-so-pretty! I'd go here if you were looking for a wedding dress that's a little bit different too. Make sure you change the currency to NZD when you go on the site – it's a bit of a jump from the default USD.
Infinity Dresses
Infinity dresses are an awesome bridesmaid dress option, as you are able to create a heap of different styles with the one dress. The straps can be adjusted and changed to create different looks – so your bridesmaids can have an outfit that suits them perfectly.
I highly – highly – recommend having your bridesmaids practice wrapping their dress styles in the days and weeks before the wedding. You don't want to be crouched round a YouTube tutorial figuring out how to wrap them (although this is pretty good video if you're trying to figure it out).
The Daintyard sells infinity dresses in more than 35 colours, in short and maxi lengths. They also have plus size options. Free fabric swatches are available too, so you can ensure the colour you're after will be what you're expecting. Costs around $50 – $80 each depending on length & exchange rate.
These high end infinity bridesmaid dress designers offer a range of on-trend colours and beautiful matching bow ties and getting ready robes.
The Peppy Studio is another infinity dress designer, with 26 colours available. They have Floor Length, Knee Length (Asymmetrical or Straight Hem) and a Junior Length, plus they do supply relatively cheap sample swatches of fabric also.
Something a little different
If you're looking for something that's not so strictly "bridesmaid" then there are a few options out there for you. The advantage of buying something that's less bridesmaid-y is that chances are, your bridesmaids will wear it again.
Boohoo.com have a large selection of dresses – many of them may be a little short or revealing to serve as bridesmaid dresses, but there are some beautiful outfits there and if you trawl through you're bound to find something. They have a great search function which allows you to filter by colour, size and style, so you shouldn't find yourself trawling through the website for too long. They also do free shipping to NZ if you spend $40 – if you're buying a couple of dresses, I think you can manage it!
Image via Boohoo.com
The pattern on the dress above has a little of a sunflower vibe to it, without being too graphic. The length is spot on too, perfect of a summer garden wedding (but maybe swap out the stilettos for a wedge if your girls are going on grass).
Image via Boohoo.com
This sweet pink number has a lovely vintage feel to it. Again, a lovely length and a dress that your bridesmaids can wear again & again.
Image via Boohoo.com
I LOVE this one! Elegant but sweet and romantic. Reminds me of one of Carrie's outfits from Sex in the City.
Image via Boohoo.com
If you're keen to jump on the bridesmaids-in-white trend, then this is your number! It's white without screaming bride – just don't pick this up to wear to a wedding if you're a guest. There's also a black version if you love the style but don't want to go white.
Image via Boohoo.com
I've saved my favourite till last, this blush pink full length dress is beautiful! This dusky shade is right on trend for wedding stationery at the moment and it just has a lovely, romantic feel to it.
Lightinthebox is suggested every. single. damn. time. the question comes up, so I feel like I can't not add them to this list.  Make sure to change the currency from USD so you get an idea of costs.
Any further recommendations for where you can get bridesmaid dresses online?
Have you found a great place for bridesmaid dresses online? Comment below with your favourite online stores and I'll add them to this post (I always check out the website to see if it's legit first, but I haven't personally ordered from any of these companies other than Kilt and Etsy).